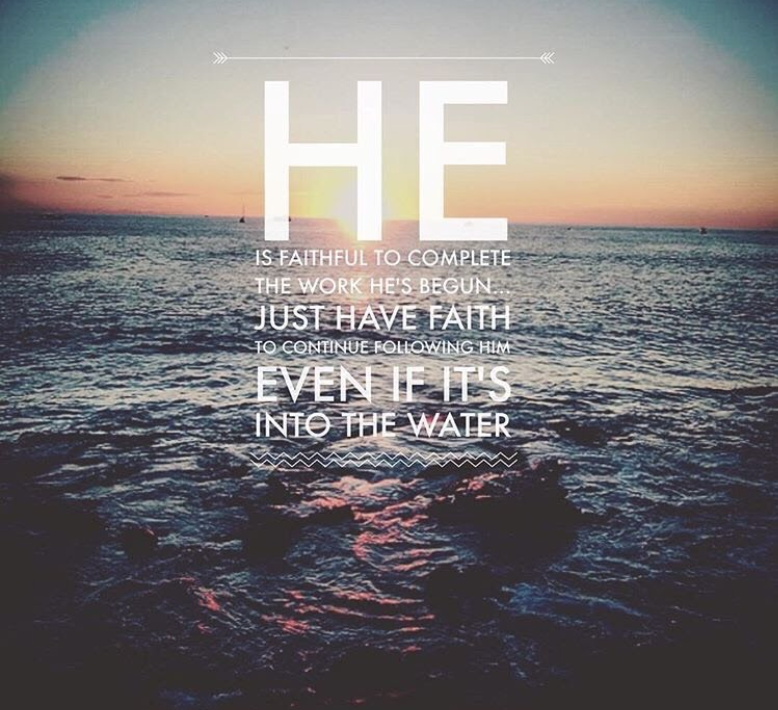 I think there's a misconception about calling and vision. When God calls you on a journey, and you've truly decided to step out and trust him, people often think it shouldn't take long, that it won't be hard, and we will effortlessly get to the other side.
Oftentimes though, I believe it's in 'the calling' where we experience the journey towards that destination when we want to give up, call it quits, or exit the plan. We're wired to seek comfort, aren't we? I want to encourage you though, friend. What He began He will sustain! And, when He speaks about getting to the other side; whether calm seas or raging storms, we can trust God to deliver on His promises.
You might be following Jesus if you're in a storm and drenched!
Just picture Peter the disciple crawling back into the boat after Jesus' rescue on the water after he tried walking on it! Gasping for air, hugging the pillow thanking God you're not drowning anymore but soaked nonetheless. At least you can say you jumped in!
Jesus never promised a healthy, happy or safe life. He DID say he would never leave nor forsake you. He did say he would remain the same yesterday, today, and forever (and that's amazing in an ever-changing world!) He did promise unconditional acceptance, love and grace; despite our biggest flaws, hang-ups & habits. And Jesus promised to work all things together for good for those who love him and are called to his purposes!! It may hurt like hell but don't quit!
Perhaps some of you are in the middle of a storm? Trust that He knows! Keep your eyes on Jesus – He is faithful to carry you to the end, my friend.
If God has given you a word, please don't give up! We need you to fight for it! Fight for you! Fight for others! Your story can be hope and encouragement to someone who needs it too. There is FREEDOM in knowing Jesus and healing in the living water. He promises with the water He gives that we will never thirst again.
RESPOND:
What storm are you in the middle of?
Are your eyes still on him, or have you started to question? Why? Take time to journal your thoughts.
PRAYER:
Lord, it feels as though I'm drowning. I'm in the middle of this storm and while I know you are in control, I admit the waves feel too big for me. I need your rescue. I need you to lift me out of the waters and to let me catch my breath. Lord help me to believe you will never leave me. Lord help me to see that in knowing You, I've already been given eternal life; so please help me to keep fighting the faith and know you are for me. Lord, thank you that your love is not based off conditional acceptances and despite my mess-ups, flaws, habits and hangups there is nothing I can do to earn your love; you just love me. Lord renew my vision. Help me not to quit and let me see what I'm praying for, come to fruition. I will keep fighting if you are my strength and help in time of need. Today I need you.